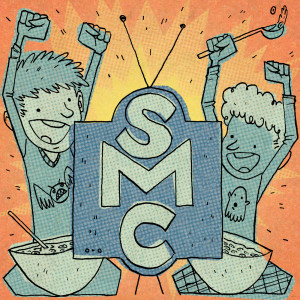 Sean and Dave continue their annual (terrible) tradition of New Year's Nicktoons! Next up in the rotation is everyone's favorite Nicktoon: #Catscratch!
Wait, what? You don't remember this 2005 toon featuring the voices of Wayne Knight, Kevin McDonald, and Rob Paulsen? That's okay, we didn't either.
Listen along with us as we get into all things 'Catscratch' and decide whether it's worth saving or destined for The Dip.
Support the Show through Patreon:
https://www.patreon.com/saturdaymourningcartoons
-
Want to find our cohosts online?
Dave Trumbore
Writes for Collider.com
Twitter @DrClawMD
Buy the book The Science of Breaking Bad - https://mitpress.mit.edu/books/science-breaking-bad
Sean Paul Ellis
IG and twitter @seanpaulellis
Performer at Washington Improv Theater where you can find tickets and times.
If you are digging our show and want to help you out, then you can do so in the following ways:
1. Recommend a cartoon to us:
Call us and leave a message at 202-681-4406. If you call then we will 100% review you recommendations if we haven't watched the cartoon yet.
2. Leave a review on iTunes with the following message titled "Are those cats?" with the review, "Those aren't cats..."
3. Like our Facebook page https://www.facebook.com/SaturdayMourningCartoons/
4. Follow us on twitter @MourningToons
5. Check us out on Instagram @SaturdayMourningCartoons